July 7, 2023
LinkedIn Masterclass for Pacific businesses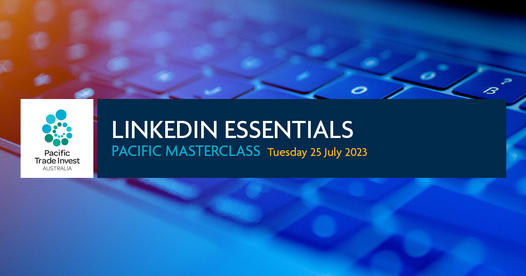 Pacific Trade Invest (PTI) Australia, the region's leading trade and investment promotion agency, have opened applications to business professionals across the Blue Pacific region for PTI Australia's LinkedIn Essentials – Pacific Masterclass, a pioneering initiative specifically tailored for Pacific businesses. The first of its kind, the interactive online workshop seeks to harness the networking power of LinkedIn to support business growth in this digitally dynamic era.
Taking place on Tuesday 25 July 2023, the Masterclass will be delivered by Heather Porter, a digital marketing expert. Porter specialises in helping businesses magnify their online presence and reach with strategic LinkedIn strategies, a skill set that's never been more critical for today's businesses.
PTI Australia's General Manager of Export, Jeremy Grennell, noted the profound significance of digital literacy in today's global marketplace.
"In this rapidly changing digital landscape, the ability to harness the power of professional networking tools such as LinkedIn has become paramount for businesses – particularly as they work to stay connected in an increasingly global world. PTI Australia recognises this need and is proud to present the LinkedIn Essentials – Pacific Masterclass to support Pacific businesses in their growth journey."
This Masterclass aims to help businesses create compelling LinkedIn profiles and company pages, allowing them to expand their professional network and reach to match their business objectives. Attendees will delve into the ins and outs of LinkedIn, including crafting an impactful content plan and exploring various avenues to publish content. Real-life LinkedIn examples from local Pacific businesses will be used to provide context and guidance.
Grennell added, "We strongly recommend all participants to have a LinkedIn account ready before the Masterclass. This will ensure that everyone can fully engage and make the most of the session." This regional workshop is open to all 16 Pacific nations, with participants needing to have access to a smart device or computer connected to the internet. The Masterclass is free of charge, reflecting PTI Australia's ongoing commitment to supporting the Pacific businesses in a digital age.