September 1, 2023
Ginger Lei Fiji wins regional pitch competition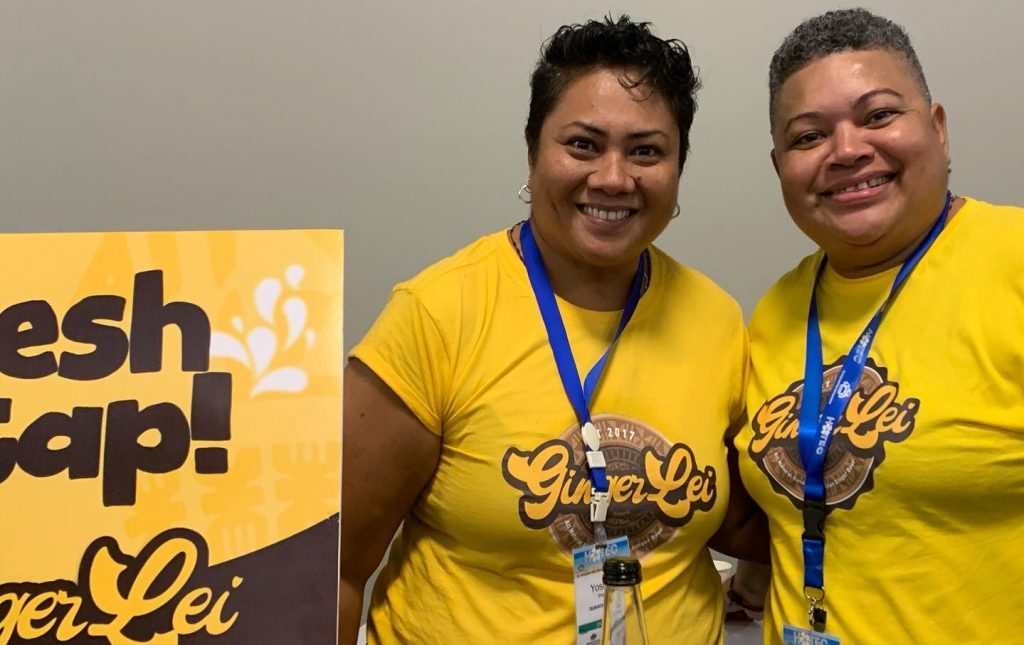 By Prerna Priyanka
Fiji's very own ginger beer company, Ginger Lei Fiji, is on a mission to not only provide a delicious and healthy beverage option, but also to tackle some of the nation's pressing health and environmental challenges.
Talei Tora, Founder of Ginger Lei Fiji and the regional winner of the Pacific Greenpreneurs Accelerator pitch program, highlighted the importance of promoting local resources and sustainable packaging at the Pacific Islands Entrepreneurship Expo yesterday in Suva.
The Expo is a gathering of stakeholders from the private sector, development partners, and the United Nations to discuss opportunities and address challenges within the Pacific entrepreneurship ecosystem.
During her pitch, Tora emphasised the alarming rates of diabetes and plastic pollution in Fiji, showcasing her company's efforts to address these challenges.
"In Fiji, diabetic amputations occur every 8.5 hours. One in three Fijians are diagnosed with diabetes," Tora reminded participants, highlighting the urgent need for healthier beverage options.
In addition to health concerns, Fiji is also grappling with plastic pollution. Over 90,600 tonnes of plastic were imported into the country last year, with a staggering 4800 tonnes ending up in the environment.
"Commercial businesses are responsible for 45% of this pollution, and the tourism sector contributes 13%. Ginger Lei Fiji aims to combat this issue by using sustainable packaging, particularly aluminium cans that can be easily recycled," says Tora.
Tora stresses that Ginger Lei Fiji is not just a ginger beer company, but an import substitution company that supports local farmers, particularly women farmers.
She adds the company uses local ingredients such as moli, lemongrass, guava and raw sugarcane to create their all-natural and probiotic drink.
"We believe in promoting fresh options for the customers and also promoting GAFA (Grow a Farmer's Agenda)," states Tora.
The demand for Ginger Lei Fiji's products has been overwhelming, especially from hotels looking to provide fresh and healthy options for their guests. However, due to limitations in production capacity, they are unable to meet the demand. This is where the Pacific Greenprenuers Accelerator program comes in.
Tora was awarded a fully funded study trip to Qatar, where she will have the opportunity to meet with other innovators and entrepreneurs. She also takes away $50,000 investment to buy the necessary machinery for scaling production using aluminium cans, promoting sustainability and the circular economy.
Barriers to business
The Expo aimed to bridge gaps and connect micro, small, and medium-sized enterprises (MSMEs) with key stakeholders, including public and private sector representatives. Collaboration and innovation were seen as crucial for overcoming barriers to growth, such as access to finance, information, mentorship, and favourable regulatory frameworks.
The Pacific Islands face unique challenges due to their geographical location and economic dependencies, particularly on tourism. The impact of the COVID-19 pandemic highlighted the resilience and adaptability of Pacific entrepreneurs who innovated to sustain their businesses.
For the past two days, the Expo provided a platform for entrepreneurs, start-ups, and supporting agencies to interact, showcase innovations, and explore opportunities for collaboration. The event is expected to contribute to the development of a stronger regional entrepreneurial ecosystem that fosters sustainable economic growth, job creation, and innovation across the Pacific Islands.
Filimoni Vosarogo, Acting Minister for Trade, cooperatives, MSMEs and Public Relations, opened the expo with a call that it be a catalyst for positive change and prosperity.
"Let us embrace the spirit of entrepreneurship, collaboration, and innovation as we navigate this exciting journey together,"he said.
Pacific Greenpreneurs
Other companies pitching at the Pacific Greenpreneurs Accelerator Regional Pitch Finals showcased their innovative solutions to address challenges such as climate change, poverty, and plastic pollution.
The event was the culmination of the Pacific Greenpreneurs Accelerator program, which supports high-potential green enterprises to develop and become investment-ready, creating sustainable green jobs in the Pacific region.
Daniel Smith, GTI's Country Representative for Fiji, highlighted the importance of SMEs in the Pacific region's economy, as accounting for over 90% of all businesses and employing more than 70% of the workforce.
He emphasised the role of SMEs in stimulating economic growth, creating jobs, and promoting innovation. Smith also mentioned that SMEs are vital in addressing challenges such as climate change, poverty, and global pandemics.
"SMEs play a vital role in the sustainable development of our countries by providing employment and income opportunities, particularly in remote areas," Smith stated.
This week's Expo provided a platform for collaboration, learning, and networking, contributing to the growth of a vibrant entrepreneurial ecosystem in the Pacific Islands.