May 16, 2022
Krishneel Nair: Professional Baker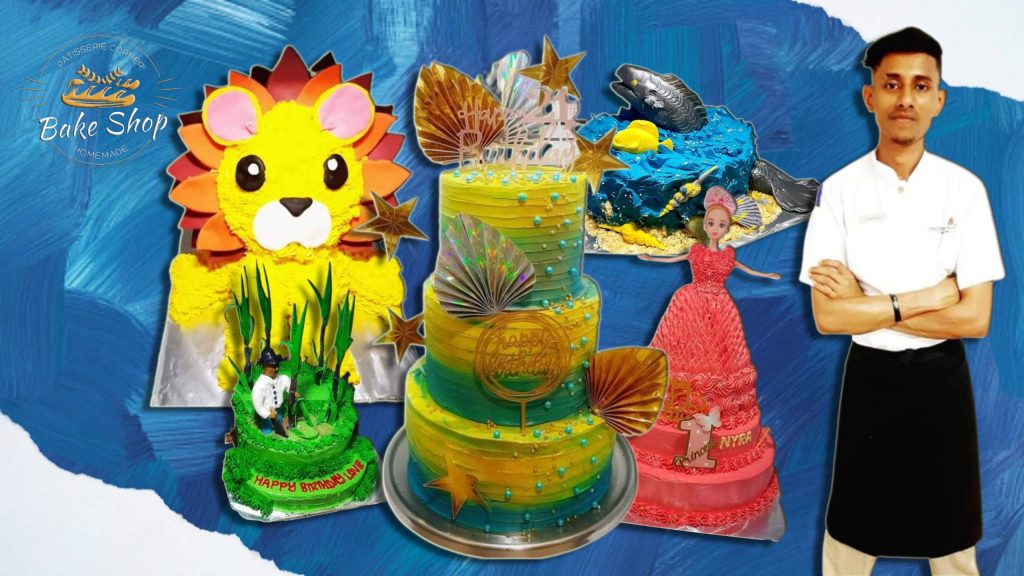 Fijian baker Krishneel Nair baked his first cake at the age of nine over a wood fire.
The Cuvu baker, who has worked in resort and hotel kitchens for more than seven years, has long dreamt of running his own business. His dream came to fruition at a trying time, when COVID-19 hit Fiji in 2020.
Nair was one of the many workers in Fiji's tourism industry who felt the brunt of the pandemic. "Hotel workers were laid off due to border closures and some of us were placed with short working hours," he said.
"I had to come up with an alternative plan and that was [starting] my small cake business."
That home-based business, Pâtisserie Còrner was launched on social media, and has enabled Nair to earn a steady income, gain customers and most importantly, settle payments.
"My customers are mostly from the western part of Viti Levu, and few are in the central division," he said. "Popular orders [are] birthday cakes however I'm more focused on the cake graze boxes and hopefully, I'll get a higher market value for that in the near future."
Pricing his cakes was hard at first, as the price for basic ingredients fluctuated. It took Pâtisserie Còrner some time to see profit from the cakes he sold. "The reason was probably because my expenses were quite high that time," says Nair. "I decided to break down my budget, get a proper plan of each product and work out a budget plan for each of my cakes. After that I could see profit at the end of the week."
Lessons learnt
Nair has always been determined to succeed in his field. When it was difficult to get a job after leaving school, he worked for almost a year for a well-known cake shop in Sigatoka. He did not get paid, but he did get lots of experience in the kitchen.
He has since worked at the Shangri-La Fijian Resort, at resorts on Denarau and at the Grand Pacific Hotel in Suva, where the cost of living in Suva made life "really tough". He's now working at the Marriott Momi Bay. "Now when I look back, I can definitely say that the struggles were damn real, and it wasn't easy, and I know there's more challenges ahead of me."
Running Pâtisserie Còrner has made me realise "we need to be ahead of the market," the baker says. "We can only achieve this by exploring new ideas and new concepts that will help the business grow. You need to be innovative."
He says having great motivators has also been important, starting with his parents. "They knew how pressured I was because of the pandemic and having fewer working hours, however they always supported me whichever way possible." His aunt was also an important supporter, kickstarting his journey by paying for a short cooking course during a school break when he was in Form 4 at Cuvu College. "They never asked me 'why do you want to become a chef when there's other opportunities available,' my aunt and my parents had faith in me, and they knew what I wanted to become so they supported me throughout." Finally, he mentions Sampath Balapatabendi, the Sri Lankan Executive Pastry Chef while he was at Shangri-la's Fijian Resort & Spa, who became a mentor to Nair. "He's the best human I've known," Nair says.
Looking ahead
My vision for the future is to own a cafe and a cake shop with a 5-star dining experience – to be the best, he declares.

For now, the Cuvu lad is balancing both commitments, working in the tourism industry and maintaining his small cake business, saying the feedback he gets from others pushes him to do better. As he puts it, "Not only does it lift standards but also broadens your mind in a more productive way."

"When you are in a tourism industry it's like having another family with different backgrounds, which actually makes it difficult to leave the industry. At the moment I'm…looking for a way to get more ideas as to how I can improve my own business that will help [it] grow."
Advice for other young entrepreneurs
"We cannot get our dream job straight after finishing school or university…everything takes time," Nair counsels.
"If you have dream of owning a business, please don't put yourself down, even though it may take a while for your business to grow… don't lose hope. You need to be passionate and focussed in your life to achieve your goals. Work for it now.

"Have patience, be productive and keep moving forward. Set positive examples for other young entrepreneurs.
"Sometimes we all have to go through something big and shocking that opens our mind and that's when we start to think in a broad way".
-By Kite Pareti