March 27, 2022
Pacific artists discuss artists' leadership in welfare & well-being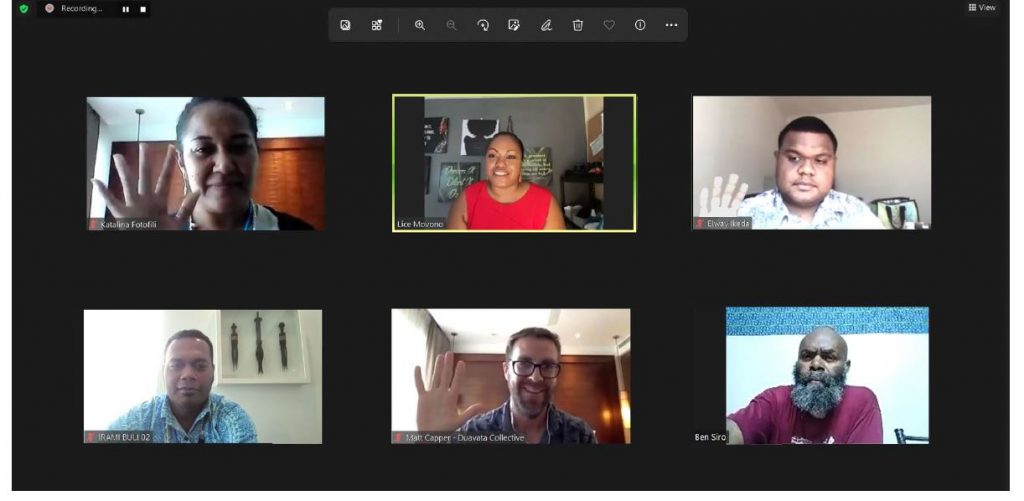 The first webinar of the ResiliArt Oceania Weaving series has heard that artists welfare can be well served by associations to look after their collective needs.
ResiliArt is a global movement initiated by UNESCO at the time the COVID-19 pandemic first began. The movement brings together cultural professionals worldwide and sheds light on the current state of creative industries through virtual discussions. It is hoped that these discussions will mobilize a concerted global effort to support artists and ensure access to culture for all. It sheds light on the current state of creative industries amidst crisis by initiating global discussions with key industry professionals, while capturing experiences and voices of resilience from artists – both established and emerging – on social media.
The discussion highlighted the value and benefits of associations for the industry along with the challenges faced by artists who were yet to formalize associations in their country. Ben Siro of Yumi Muzik Association, Vanuatu stated, "One of the problems I face mostly is piracy. I can't sell my product because people are always copying my products. It's not just me but many artists as well who face a similar problem. [And] for the last 41 years, we haven't had a stable and sustainable entertainment fee in hotels and other places. So it makes it quite hard for me as a musician and others to create income out of music." Yumi Muzik aspires to address these issues and establish their own dedicated radio station promoting the music of their members.
Irami Buli of Association of Visual Artists, Fiji (VAVA) explained that for VAVA, "the welfare of artists is very important", adding "that's part of our main aims for the association. It's not about purchasing or commissioning an artist's particular work; it's about sustainability. This is about how the artists can actually sustain themselves. I'm referring to both the tangible and intangible assets of artists so that they are able to benefit from their own intellectual property. Most of our artists have been here for decades and there is a need to invest in their experiences and their knowledge".
As the panelists shared their reflections in their journey to formalize their associations, there was a general consensus that associations provide their members with a platform and a collective voice. "Duavata gave us that platform, it has given us that voice. We want to be very careful how to use it, we don't want to lose the reputation we've gained, so we do have to be a little bit strategic and ensure we are thinking through how we engage," said Matt Capper of Duavata Collective, an association which has supported the registration of both VAVA and FIDA, and has become influential in Fiji's eco-cultural tourism sector.
Elway Ikeda of the Palau Music Association noted that associations are particularly important for uplifting the status of artists: "In terms of social well being for the members, I think to me, the most important thing is the dignity of artists and musicians. And that's what I think associations should push for". Elway added that the Multi Partner Trust Fund post-COVID recovery project supported by UNESCO and ILO in which he was involved as a trainer in the music skills development, encouraged the musicians to "get the association moving" and to lobby for outstanding issues which COVID made obvious including fee structures for performances and performers' rights under the copyright law.
The session concluded with advice by Duavata Collective for artists and associations to work towards a common cause that they can coalesce around to help build trust and engagement with both their own and the wider community, and to be able to access spaces that have previously been closed.
The second webinar will be held on Tuesday, 29th March and the debate will focus on the theme: "Arts and culture: Telling our stories effectively" The ResiliArt Oceania Weaving webinars is coordinated by Torque Atelier, in partnership with UNESCO Office for Pacific States, in the frame of the Joint UN project entitled "Inclusive Economic Recovery through Sustainable Enterprises in the Informal Economies of Fiji, Palau, Tonga and Vanuatu" funded by the UN Secretary General's Multi Partner Trust Fund (MPTF) for COVID-19 recovery. The discussion hopes to expand on support mechanisms within the cultural and creative industries as a part of these informal economies