August 21, 2023
Research to understand risks posed by extreme weather events to MSMEs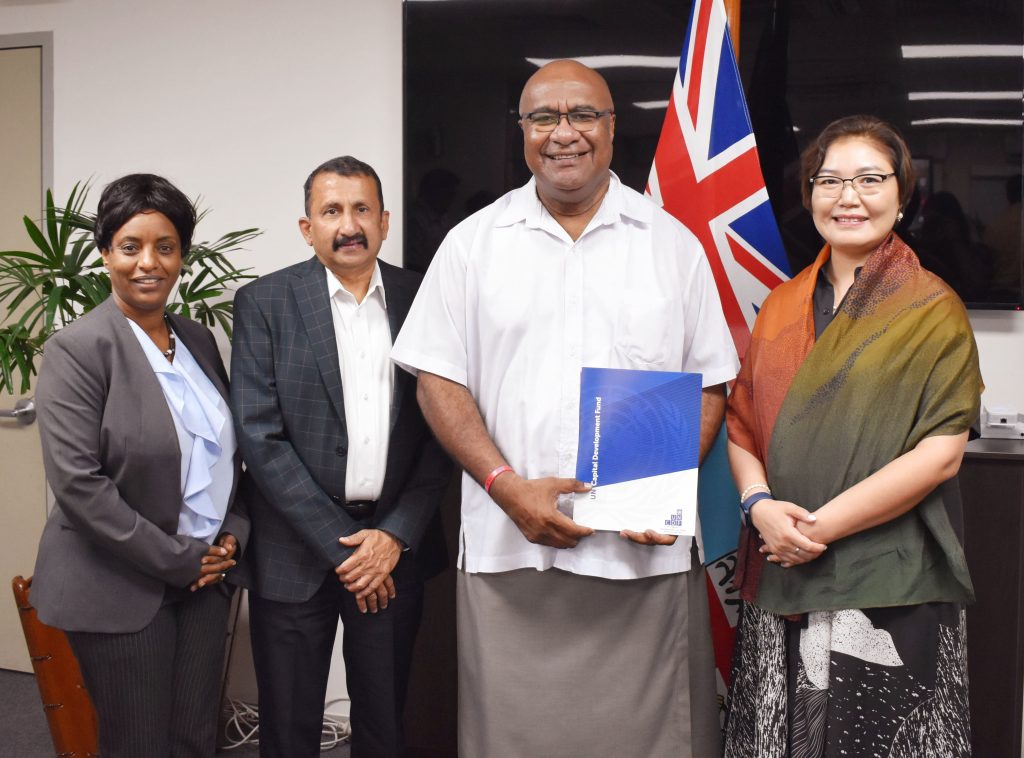 A new grant worth US$50,000 has been allocated for a joint research project to understand the risks posed by extreme weather events to MSMEs and Co-operatives and the financial options available to them in the aftermath.
The research project is a collaboration between the UN Capital Development Fund, Fiji Ministry of Trade and Co-operatives, Small and Medium Enterprises and Communications, and the Fiji Office of the Prime Minister.
According to a statement by the Fiji government, the research project will survey the risks and vulnerabilities MSMEs and Co-operatives in Fiji are subjected to by natural hazards. The research project will also identify Climate and Disaster Risk Financing and Insurance (CDRFI) products and solutions that will meet their financing needs in the aftermath of such events.
CDRFI refers to financial instruments, such as parametric insurance, that aim to improve the financial preparedness and resilience of individuals and societies against climate and natural hazards.
Minister for Trade, Co-operatives, Small and Medium Enterprises and the Deputy Prime Minister, Manoa Kamikamica, said that this will be an exciting opportunity for MSMEs and Co-operatives to voice their opinions and ideas on the products to be designed to suit their environment and needs.
"Over the years, given our history of natural disasters, the parametric insurance will provide confidence and mitigate risks for our MSMEs and Co-operatives to establish throughout Fiji. Particularly, the parametric insurance will minimize, and address loss and damage suffered by MSMEs and Co-operatives.
"Additionally, this opportunity will contribute to the industry by enhancing MSMEs and Co-operatives experience, simplify the pain points of insurance claims and expanding the breadth of what can be insured." said Kamikamica.
Based on the findings of the research, UNCDF will identify the type of CDRFI instruments that can be developed to protect MSMEs and co-operatives. The project will have four distinctive phases: (i) Research (ii) Product Development (iii) CDRFI product pilot testing and (iv) Assessment and Reporting post pilot.
The partnership with UNCDF will enable MSMEs and Co-operatives to identify gaps that will help make parametric insurance more affordable and accessible to MSMEs and Co-operatives in Fiji.
Through this partnership, the Ministry will be able to foster entrepreneurial resilience by identifying the different risks associated with natural hazards that affect MSMEs and Co-operatives in various sectors and contribute to the development of tailor made CDRFI solutions.
"We look forward to collaboratively working with the Government of Fiji on this project aimed at developing bespoke CDRFI solutions targeting MSMEs and cooperatives to build their financial preparedness and resilience against impacts of climate change and natural hazards" said Henri Dommel, Director, Inclusive Digital Economies, UNCDF.
"We hope to learn from this experience and replicate in LDCs and SIDS as we expand our CDRFI portfolio."
This will also be an opportunity for the Ministry to provide financial literacy training and co-operative awareness across the divisions.