September 12, 2023
Te Raraga: weaving generations together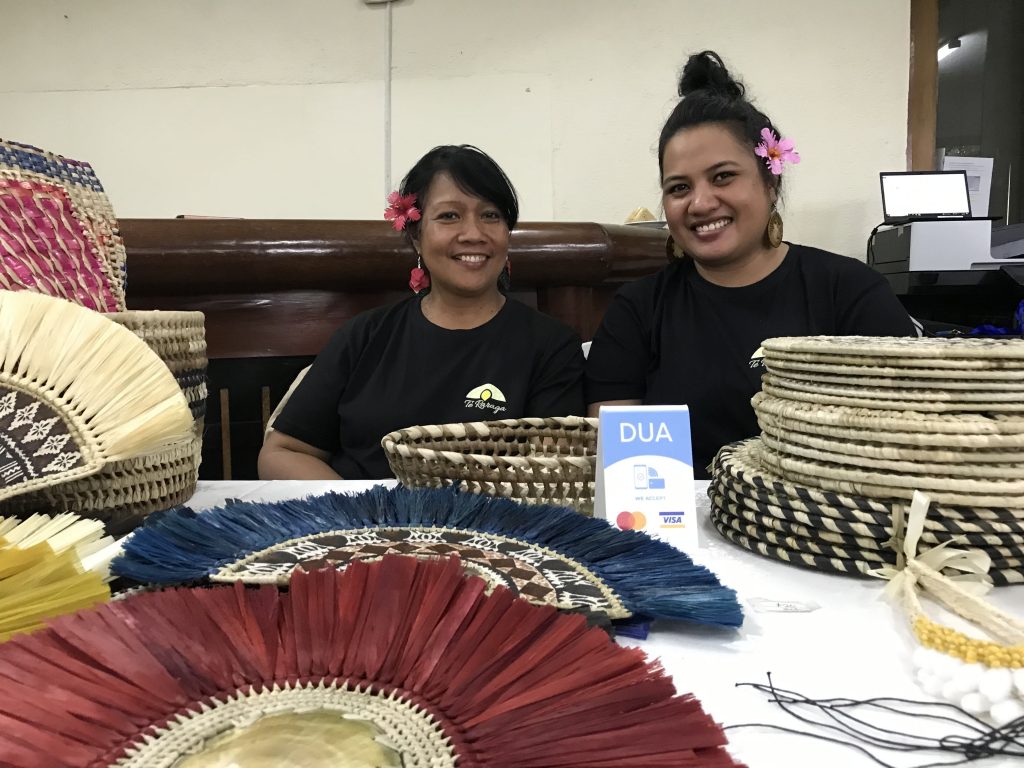 By Kite Pareti
"Doing handicrafts together has actually strengthened our bond as mother and daughter. It also helps us to understand each other's strengths and weaknesses because we work a lot together."
So says Emily, who along with her mother Toka, are the founders of Te Raraga, a family-owned handicrafts business based at the Suva Handicrafts Centre since 2018.
Their designs showcase traditional Tuvalu and Kiribati woven items that are "incorporated with other Pacific Island designs".
"The word 'Te Raraga' is a fusion of the words 'araraga' in Kiribati and 'lalaga' in Tuvaluan. These words combined mean 'weaving'," said Emily.
The art of weaving is "a skill passed down from my mother's mom as far as we know, and now, my mom teaches me and my two other sisters," she said.
Weaving is a source of income for many women of Kiribati and Tuvalu origin living in Waikerekere, Veisari, just outside the capital, Suva. Most of them relocated to Fiji due to climate change impacts. And, Te Raraga supports these women to "earn money from their talent".
"Being a woman-owned business motivates us not only to help ourselves, but we also help other women in our community. The community we live in mostly has Tuvalu and Kiribati women.
"There are only a few [women] who do [weaving], but now that we're being supported by the locals with the business, we've given the [women] orders to make.
The skill of weaving reminds the women of their heritage. "They are now teaching it to their children," said Emily. "Before, it was only mom's generation who were doing the weaving. But now our generation is encouraged to do it and hopefully, we will pass it onto the next generation."
Te Raraga's products have been featured at special events such as the ROC markets and Fiji Fashion Week. "We have collaborated with a few designers. A few years back, Samson Lee used our earrings. This year it was Kess Baleirara of Aleir Designs who used our fans for her models."
Their signature fans, Emily says, are Cook-Islands inspired, made using masi (bark cloth) and vibrant coloured vau (dried bark of wild hibiscus) woven together with a large cowry shell as the centrepiece.
"Our dress fans are great for weddings, funerals and some have bought them to complement their other wall hangings," she said.
The duo recently prepared a table full of their creative products at the second Pacific Island Forum Women's Leaders Meeting in Suva.
"We have tapa placemats, serving trays, pot plant holders, laundry baskets, dress bags and vegetable racks," Emily explained.
She adds: "We were invited by the Ministry of Women and we'd like to thank them very much for the lovely opportunity. Not only did we meet people from other Pacific Islands but we met our fellow women entrepreneurs who are here too."
How does Te Raraga come up with such diverse products?
"We look around and see what's selling… to see what's popular… and then we try and incorporate our own weavings. Recently, I've seen people design their walls with different wall hangings. I think there's some at the Coffee Hub. We see that that kind of decoration is becoming popular so we're trying to make different types of wall hangings, in different sizes and different patterns," she said.