September 14, 2022
Maua App launched in Vanuatu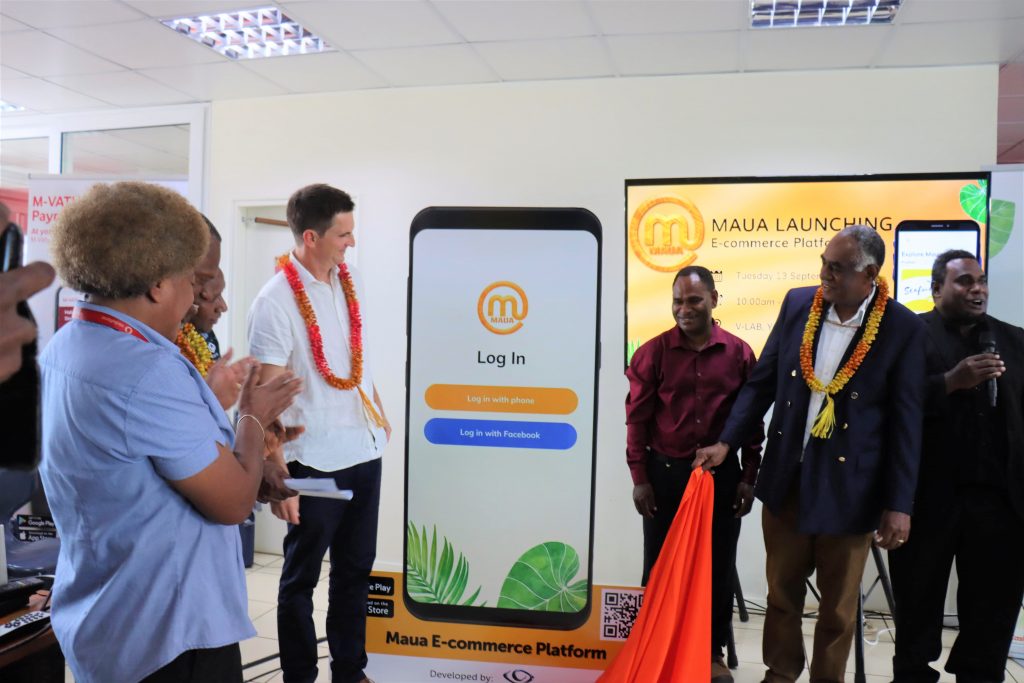 Maua, the popular e-commerce platform widely used in Samoa since 2018 and supporting post-covid economic recovery in the country, was officially launched in Vanuatu yesterday.
Available both in mobile application and website form, the platform offers businesses and customers with a digital marketplace to seamlessly exchange goods and services.
In Samoa, the Maua founders, through digital trade, aimed to forge stronger linkages between the country's informal and formal sectors and strengthen bonds between local and diaspora communities.
For the first time, upcoming and established businesses alike could trade goods and services on the same platform with a single customer base, including Samoa's sizeable diaspora community.
There are over 200 active vendors trading on the platform in Samoa, according to Sam Saili, CEO and Chairman of SkyEye Pacific Limited, the firm that founded Maua.
Expansion into Vanuatu is seen as a natural progression for a digital solution that the company hopes will help further their vision of "localising technology to solve problems for Pacific people."
"Now that the Maua app has become sustainable [in Samoa], because of the social impact that it brings, we are able to adapt it to Vanuatu," Mr Saili said.
The move is inspired by the company's ambition to see Vanuatu's digital economy develop in an inclusive and equitable manner.
"For the buyers, the selling point is convenience, where they're able to locate what they're looking for immediately, pay for it online and have it delivered to their homes," he added.
The momentum for e-commerce developments is gaining steam regionwide following endorsement of the Pacific Regional E-commerce Strategy and Roadmap by the region's trade ministers in 2021.
Vanuatu launched its own E-Commerce Strategy and Roadmap in May, which the country's Minister of Tourism, Trade, Commerce and Ni Vanuatu Business, James Bule, described as a document that would "…radically change the nature of doing business in the country…"
For SkyEye's Vanuatu Country Director, Wilson Toa, these developments are indicative of the favourable and fast-developing ecosystem for e-commerce investments in Vanuatu.
With more infrastructure upgrades planned, the timing could not be better, Mr Toa said.
"The environment is conducive and there is buy-in from the Government; We look forward to showcase the potential of Maua and its role in enabling e-commerce in Vanuatu," he added.
The Maua App
Maua offers an array of products and services: Customers can purchase food, groceries, and other essentials, and hire professional DJs, babysitters and more through the platform.
Address tracking and delivery is made easy through the platform's Google Maps-like Geographic Information System Mapping technology, developed locally by SkyEye Limited.
Mr Saili said they endeavored to make Maua easily adaptable and transferable across the region when first developing the platform to make such an expansion possible.
The idea was to tailor technology available abroad to suit the Pacific's unique infrastructure and logistical context.
"Because we couldn't find solutions off the shelf, we had to create our own," he added.
Both the app and website accept digital payments, either through debit or credit cards or mobile money, making transacting even more convenient and safe.
The UN Capital Development Fund's (UNCDF) Pacific Digital Economy Programme is supporting SkyEye with making the Maua platform more accessible to traditionally excluded groups such as women, youths and people with disabilities.
"E-Commerce provides an enormous opportunity to accelerate economic recovery and resilience in the region. I congratulate the Skyeye team for launching the Maua app in Vanuatu and wish them the best in rolling out the platform" said Ajay Jagannath when he addressed the gathering at the launch event in Port Vila.
The Programme is jointly implemented by UNCDF, the UN Conference on Trade and Development (UNCTAD) and UNDP, with support from the Australian Government.
Accessing New Markets
Another attraction for vendors is the access Maua provides to customers outside conventional markets, such as those living abroad.
One of the original motivations for developing the platform was to create economic opportunities for local businesses by linking them with vibrant Pacific diaspora communities in Australia, New Zealand, the USA and others.
For example, over 500,000 Samoans are settled in New Zealand, more than double Samoa's population of 200,000. Samoans abroad can transact on Maua just as easily as local users.
In this way, the platform is helping overcome the challenge of geography and distance that many Pacific businesses cite as major impediments to growth and access to market.
The Vanuatu expansion will create similar opportunities for businesses in the country to expand their customer bases and for consumers to shop with convenience and ease.
Remittances & e-commerce
According to Mr Saili, Maua also provides an alternative way for Pacific communities abroad to remit money back home.
Remittances contribute significantly to Pacific Island economies and national incomes and is a major source of foreign exchange in the region.
Inward remittances to Samoa equate to one-sixth of the country's GDP, while the figure stands at 11% in Vanuatu.
However, Mr Saili said there was a risk remittance flows could begin to decline as the "generational gap" between diaspora and local Pacific communities gradually widens.
"There are risks now that fourth, fifth and sixth generation [Pacific Islanders] will not have close ties back home and they will not want to write a blank check and send it over," he said.
"We are also offering the option where our relatives overseas can have transparency and control over where their funds go by paying for things for their families at home."
This was the case during COVID-related movement restrictions in Samoa, with people abroad buying food and groceries directly on the Maua platform and having it delivered to friends and relatives at home.
Preserving Traditional Knowledge and Food
One unique feature on the platform is the availability of traditional handicrafts and food – such as the infamous and tasty Samoan delicacy, palolo.
In fact, leveraging digital trade to preserve traditional knowledge and food was one of SkyEye's primary goals when designing Maua.
Traditional handicrafts, like hand-weaved bags, are proving to be high-value items, selling for as much as US$200, far exceeding the average market price.
The increasing commercial value of traditional items, likely driven by demand from abroad, is cause for much excitement for the SkyEye team.
"We are very excited about these developments because now the younger generation see commercial value in continuing that type of traditional knowledge," Mr Saili said.
The launch of Maua marks a major development in Vanuatu's efforts to attract more investments in digital trade solutions and infrastructure that drive private sector growth, especially for MSMEs.
Despite anticipated cultural challenges, there is much optimism that the platform will lay strong foundations for the growth of e-commerce in Vanuatu, with great benefits for businesses and consumers.
Writer: Sheldon Chanel
Sheldon Chanel is a communications officer with the United Nations Development Programme Pacific Office in Fiji.