August 28, 2023
Freight Support for Pacific exporters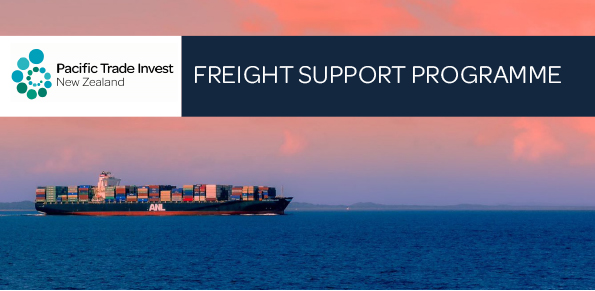 Pacific exporters can apply for the second round of the 2023 Freight Support Package from Pacific Trade Invest New Zealand.
The Freight Support Package supports exporters from the Blue Pacific Continent in the wake of global inflation and rising supply chain costs. The scheme helps strengthen business resilience; support businesses affected by supply chain constraints; and enhance businesses' competitiveness in international markets.
The Freight Support Package will offer a 100% cost match for first NZ$1,000 of freight costs. Thereafter, a further 50% cost match for next NZ$5000, to a maximum grant of NZ$3,500.
Eligibility
Have a registered business and export licence in one of the Pacific Islands Forum Member Countries and be exporting during 2023 or have forward export orders for 2023.
Must be exporting to NZ or PIFS nation or territory.
Provide documentary evidence of freight costs over the past 12 months (e.g., bill of lading, air waybills, freight company invoices and/or statements).
Proof of freight payments made by applying business.
Agree to submit impact statement and sales attributed to grant.
Applicants are only eligible to receive the grant once in a calendar year.
Additional Considerations
As well as ensuring the above criteria are met, the selection committee will assess the business on the below:
Community Impact
Gender balanced employment
Women owned or led enterprise
Engaging in e-Commerce
Size of business
Applications open 1st September 2023 and close 30th September 2023.
For more information, please contact Ellen Callister ellen.callister@pacifictradeinvest.com