April 11, 2022
Josephine McComber,SPBD Businesswoman of the Year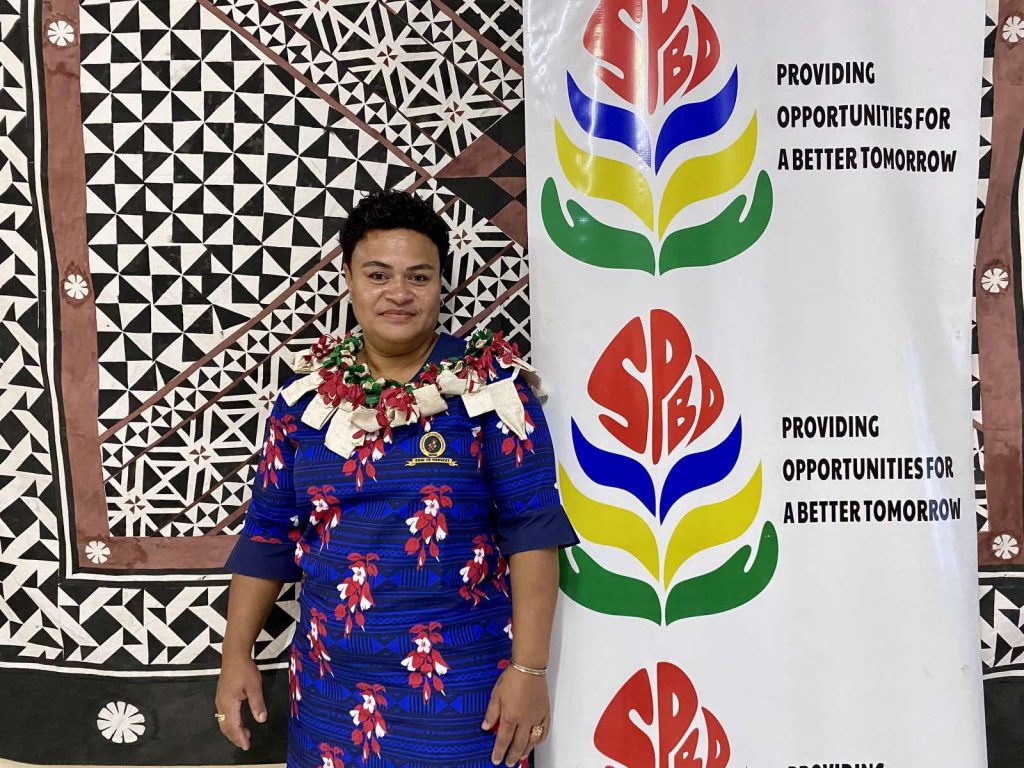 Josephine McComber from Taveuni is the SPBD Fiji Businesswoman of the Year, 2020.
The award is a dream come true for McComber: "I feel happy and proud, I was desperate to become the next SPBD Businesswoman of the Year and it is a great feeling."
McComber was born and raised in Somosomo, Dreketi and lives in Taveuni with her husband. Her children are students at the University of the South Pacific.
The businesswoman owns three businesses. She makes and sells handicrafts, runs a market selling vegetables, food parcels, tea, juice and flowers and runs a hair salon.
The entrepreneur has been a member of SPBD for six years. "It has enabled me to set-up my business as well offering financial training and support, like savings," says McComber.
"The money I earn from my businesses are used to support my family, my children's education and maintain my home," she says
Her journey
McComber worked in the home before joining SPBD, and deciding to attend hairdressing school. The Taveuni businesswoman's first business involved handicrafts. Three months later she set up a produce market.
"On the first year, every morning I set up a tent for the market that sells assorted items from vegetables, food parcels and handicraft items," she says.
Her salon came a year later.
When the COVID-19 pandemic swept Fiji, McComber's handicraft business came to a complete stop, but her market business and hair salon kept her afloat, despite many similar businesses struggling, or even closing down.
McComber says, "During the health inspector's visit he advised the worst-case scenario to close down. However, I didn't have to. We followed the COVID-19 protocol, allowing only a maximum of four people in the salon and the market still operated smoothly despite the pandemic, using items I planted in my home garden"
"There is a need in the market for flowers, particularly hibiscus flowers, I plant and sell them online; people order them especially around Viti Levu the price ranging from $20 to $30 a pot and I ship them," she says.
Josephine's ability to diversify created financial stability and sustainability during this unprecedented time.
Looking to the future
Josephine's ambitions don't stop there. She plans to build her atop a piece of land, and house her different businesses under one roof, helping to create job opportunities for others on the island.
"The plan is to lease a piece of land for my business because in Taveuni it is hard to find a space to set up all my three businesses and employ the ladies in my community," she says.
"I love helping people; some of these women are not doing anything at the moment. In a way it is like we are helping each other out and it's good for them too," she says.
McComber's experience with SPBD allows her to brush shoulders with other entrepreneurs that need words of encouragement to continue during trying times and offers them support. "One of our members wanted to quit many times, but I talked her out of it and give her the support she needs," she says.
Josephine McComber encourages people to never give up on their businesses despite the many challenges. "If your business isn't growing explore something new, be smart, be creative and don't quit," she says.
This is a version of an article that first appeared in the SPBD 2020 Awards publication.