July 7, 2022
Pacific Greenpreneurs 2022 Incubator Program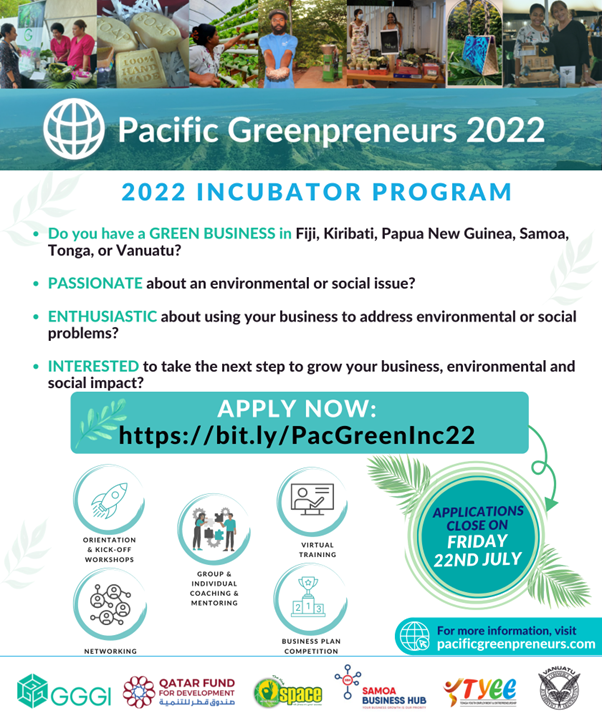 Are you an early-stage green entrepreneur in the Pacific? Are you passionate about addressing environmental or social issues through your business? Want to build your business through training, mentoring, coaching & networking? Interested in winning USD 5,000 in seed grant funding? The wait is over!

In celebration of the International Micro, Small and Medium-sized Enterprises Day 2022 theme of 'Resilience and Rebuilding: MSME's for Sustainable Development', the Global Green Growth Institute in partnership with the Qatar Fund for Development and Emstret, Samoa Business Hub, Tonga Youth Employment & Entrepreneurship and Vanuatu Chamber of Commerce and Industry is pleased to announce the much-anticipated launch of the Pacific Greenpreneurs Incubator Program 2022 Call for Applications.

APPLY NOW to participate in the Pacific Greenpreneurs Incubator Program 2022!
 Women and youth entrepreneurs are strongly encouraged to apply. Teams or individuals from Fiji, Kiribati, Papua New Guinea, Samoa, Tonga, Vanuatu with for-profit businesses are eligible. 
 
Applications close on 22nd July 2022. The program will run from August 2022 – February 2023.
 
For more information, visit www.pacificgreenpreneurs.com.