April 4, 2023
Adimaimalaga Tafuna'i: Women in Business Development Samoa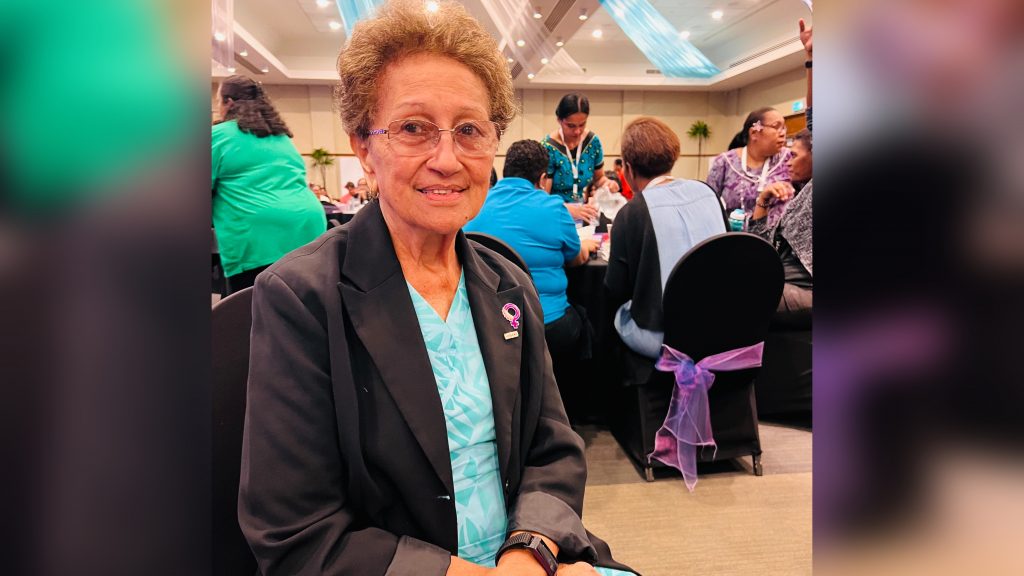 By Sera Tikotikovatu-Sefeti
The lack of a market for Samoan rural business owners spurred now-iconic business leader, Adimaimalaga Tafuna'i and her team to venture out into agriculture, and the passion for helping vulnerable families is what has kept them going during challenging times.
Tafuna'i, the co-founder and executive director of Women in Business Development Samoa since 1991, has assisted 183 Samoan villages in their entrepreneurial journey to date. "It was 32 years ago; I mean, we had a group of women who we started with, and we were actually looking at trying to encourage rural women to be in business," she recalls.
The organisation's staff work with communities throughout Samoa, and although the programs have been fruitful, it was not an easy task.
"There were cyclones like Val in 1991 that devastated our economy, and a few years later, we had a taro leaf blight (TLB), and it literally took 3 million tala out of the economy, and for a small country, that was huge," she said.
In 1993, the TLB, which was caused by a fungus that attacked taro leaves and stems, brought an end to Samoa's once-thriving taro export industry. "So we decided that we would change what we were thinking, which was basically business for ourselves, for those of us who were involved, and just focus on people who were vulnerable," Tafuna'i said.
This was not as easy as it sounds for the team, and one of the biggest issues they had to address was a sustainable business plan.
According to Tafuna'i, the problem was a lack of a market for the products sold within rural Samoa; everyone grew the same things, which eventually led them to become more involved in agriculture as it was the backbone of everything in Samoa.
"The project was doing amazing, and then we realised that the production was really good, but we had nowhere to sell it.
One solution was to develop an agriculture programme centred around organic products. "The programme is organically certified to international standards, which is useful for their business when they export their products overseas.
"So we have organically certified families farms to an international standard through the National Association for Sustainable Agriculture in Australia, and so all of these people can export their products overseas," she said.
In 2008, the organisation began exporting coconut oil to the Body Shop in the UK. Certification adds value to the product, "people internationally trust the brand more with those certifications in place".
Their break came when a senior buyer, Graham Clue, went looking around the world for a coconut oil supplier. This was a chance to break into the international market.
"He went around the world looking for coconut oil and couldn't find anything because it had to come with the story," Tafanu'i explained. "Then he sat around, and I saw a picture of a Pacific island with a coconut tree."
"I know who put that in your mind," she told him, "Because we have been praying about it, and today our main market is coconut oil; we also have organically certified cocoa, coffee, and we also do dried bananas that go out to the market in New Zealand."
Her passion drove her to look for other ways to help the people, one of which was to revive Samoa's dying art of fine mat weaving and turn it into an income-generating activity. "We wanted to involve the women as a way to financially sustain them."
Tafanu'i said there were many lessons along the way, "We just knew we had the passion and a lot of faith. We didn't really know how to do anything because we all came from different fields.
"As we grow, we make many mistakes and learn from them, and whenever something successful happens in the business, we used to sit back and say to ourselves, 'They don't know how many things went wrong in the process', but as we grow older, we learn from our mistakes.".
Her role as a leader has extended beyond Samoa, as she was a key player in the formation of the regional organic task force, which brought together practitioners to establish a Pacific organic and ethical community. The group went on to establish the Pacific Organic Standard, which was the only the third regional organic standard worldwide at the time.
"But I think the important thing is that our board has decided that we're on a transition process to becoming a social enterprise, and again, when that happens, the social enterprise will be owned by the vulnerable families that we work with," she said.