June 14, 2022
Vee's Organic Farms: Down to earth, still atop the world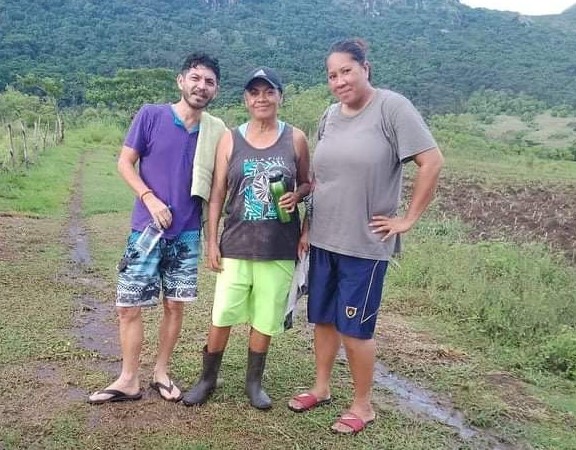 By Jason Jett
The story could have ended with a flight attendant being told she would never walk or talk again, simply being grounded, but Vitila Vuniwaqa hopes to inspire others with chapters in which she overcomes the physical block of a stroke to stick a landing as a farm-entrepreneur.
Not so long ago, Vuniwaqa was literally atop the world flying for Air Pacific, now Fiji Airways. Then one morning in 2010, she awoke to "the worst headache I have ever had." It proved to be a stroke that would end her flying career.
After having to re-learn how to talk and walk, through months of agonising rehabilitation that had her completely dependent on others, Vuniwaqa felt the need to be self-reliant and more attuned to nature. She purchased a farm and began literally living down to earth.
Ten years later, on Vee's Organic Farm in Sabeto – not far from Nadi International Airport where she once was based — Vuniwaqa is growing an array of vegetables and selling them, along with honey, beeswax and coconut oil, to vendors at Namaka Market and to townspeople.
The 48-year-old Suva-born woman heads a three-person team operating the 12-acre farm, with community members hired to help in the planting and harvesting of spinach, eggplant, cassava, beets and more. She also runs a bed-and-breakfast property, coordinating with Fiji Tourism to share her peaceful slice of nature with others.
"I want people to know that I am on top," Vuniwaqa said before speaking in April at the University of the South Pacific's 2022 Entrepreneur Fair, where she shared her story with aspiring businesspeople.
"In February 2010 I had a major stroke," she told the conference. "It happens when the blood supply to some part of the brain is cut-off. This changed my life, when I was told I would not walk or talk again.
"But I beat the odds by God's grace, and with the help of my mom, family and friends who supported me," continued Vuniwaqa. "During the hard and trying times, I had a dream that I would fight to get back on my feet and do the things which I enjoy.
"Today, I challenge all of you," she said. "If I can do it, so can you."
Vuniwaqa said after her recovery, she wanted to go into organics and visualised starting a farm.
"I established myself as a viable entrepreneur through communications with the Ministry of Agriculture and being involved in different farming projects," she stated. "I attended workshops and learned from them. This has helped me with farming information, and what I can do to improve my farm."
In 2019, Vee's Organic Farm added hiking and meals to its offerings for tourists and nature enthusiasts. A year later, Vuniwaqa was awarded the 2020 Women in Agriculture Award by the Ministry.
"Today, for the many young USP students in the audience who wish for an entrepreneur career, have a positive mind, accepting any challenges you may come across," Vuniwaqa said at the event. "Success is not an accident. It is hard work, perseverance, learning, studying, sacrifice and most of all, loving what you are doing or learning to do."
Vuniwaqa showed USP students images of flowering plants, trees, crops, herbs and more on her farm. She noted there are 10 bee boxes from which organic honey has been produced the past five years.
She also has chickens, a nursery for seedlings and produces organic lemongrass, pickles and jams.
Some 10 years ago, Vuniwaqa had a narration of the story of her stoke recovery transcribed by a friend, hoping to one day have it published. She titled it, Change for the Better: Defying the Odds.
It begins, "I needed to share how events that could easily bring you to your knees, did not have to keep you there, but through prayer and spirit, you can use those situations to uplift yourself, to discover your purpose, and at the same time be a beacon to those who are also facing challenges.
"Change is good, embrace change, even when it seems all is against you."