June 28, 2023
New partnership to help coconut company and the women who supply them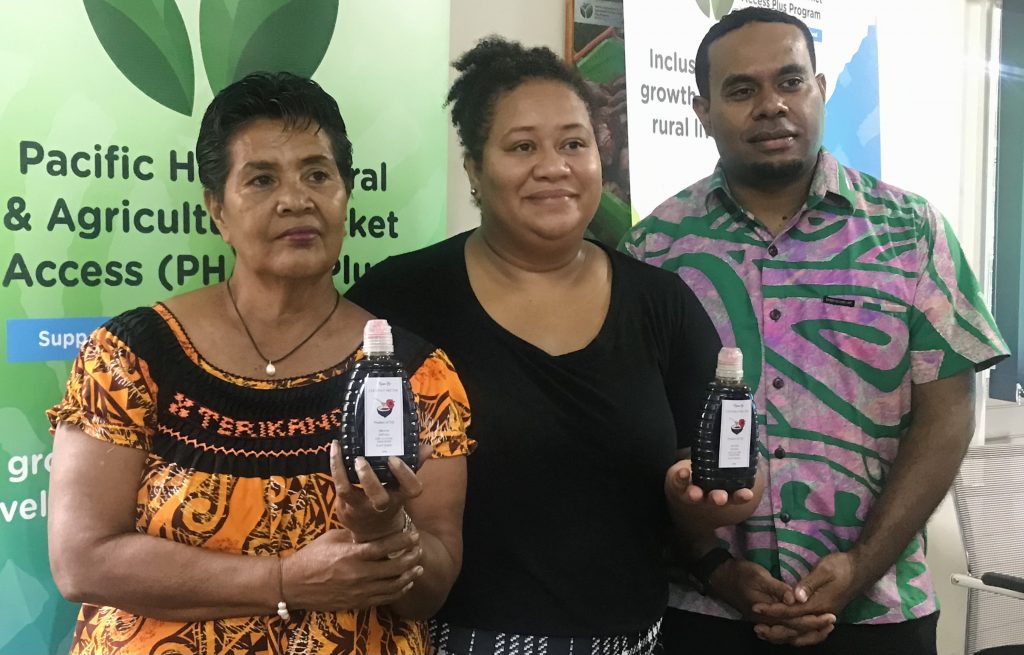 By Kite Pareti
Two years since launching their range of coconut based products, Fijian entrepreneurs Kylie Daunoco and Jojina Ah-Yuk have entered into a new partnership to further revive the tradition of making toddy.
Initially known for their delicious home-made coconut ice-creams—a venture birthed during Covid lockdowns—the duo have launched other coconut goodies in the form of soaps, scented oils, and pure nectar into the local market.
The founders of Marama Niu source their coconut nectar (or toddy) from the island communities of Rabi and Kioa. But as Terikano Takesau of Banaban Virgin Coconut Oil Facility says, this tradition is dying out.
"Making toddy is an old tradition and it is the young ones who we are encouraging to keep it alive," Takesau says.
According to Daunoco, coconut nectar is Marama Niu's most popular product yet. The company has now entered into a new partnership with PHAMA Plus, an aid for trade program supported by Australia and New Zealand, to further support local communities.
Through the partnership, Daunoco says they hope to work towards international food safety standards for their coconut nectar, with a view to exporting their products.
"PHAMA Plus is going to help us in terms of getting the right equipment, for cooking, testing, etc. There are other factors that we have to face in terms of when fresh nectar is extracted [as] the moment it's being extracted from the trees, it starts fermenting," she said.
"So we need to know up to what stage will it be okay to use that in syrup production, or if it's fermented past what we'd like or what food safety dictates, maybe that could be used for vinegar instead.
"There are other products that can be made from that fresh nectar… they're also a substitute for soy sauces, cooking aminos. So there's a wide range of products that can be made.
"PHAMA Plus is going to help us tick all the boxes in terms of food safety, from the moment that it's extracted from the tree to the whole cooking process to storage — all of those things that we need to get done if we want to see this grow and reach a potential that can change a lot [especially] for rural communities [we support]."
Daunoco says: "We'll be heading back to Rabi over the next few weeks to just go and get a feel for how we can go about the different options that are available, whether we're going to be expecting nectar and cooking on the island or if they're going to extract, store and then it'll be shipped to Suva where we'll cook it here.
"We need to look at the different modalities. So that's what this pilot trip to [Rabi] is all about, just for us to go and assess, come back and figure out the easiest way to do things that not only benefits them but us also.
"We need ease of business. You know, easy for them, easy for us, something that helps both of us and it will help us grow together. That's what we would like to see."